Earlier this week the Scot Lit Blog had a bit of a catch up with debut novelist Alan Gillespie ahead of the launch of The Mash House TODAY (May 6, 2021). As debuts go this one is a bit of a belter: a dark and intense tale of secrets and tragedy in a small Highland town. With characters that will stick with you long after you turn the final page, I couldn't wait to pick the brains of the man behind the words. So, without any further havering from me, let's get on with it….
The darker side of the Highlands
Setting is so important in any book and, in The Mash House, Alan really got under the skin of what goes on underneath the tartan shortie tin facade of some of these wee toons. Taking inspiration from his own experiences as an outsider to a close-knit community, the idea for the novel sprang from his early days as a teacher.
"When you're training you have a choice for your probation year: either choosing a council to work under or ticking a box to be sent anywhere which comes with a bonus. I went for the bonus! I ended up in this really, really remote school in the west Highlands. It was a weird, unique experience for me going from growing up in a town, then living in a city to ending up somewhere so rural."
As he didn't drive at the time, Alan had to go back and forth to school each day on the ferry – something that you'll get to know well in the book – he says, "The ferry finished at seven or eight o'clock then after that there was definitely a feeling that you were closed off for the night. No-one could get in, and no-one could get out. You'd hear of folk driving drunk home from the pub because there were no police about and if I was staying over there for a drink I'd have to borrow a torch from the barman at the hotel because there's no streetlights."
So from this admittedly "weird experience" the seed of the story was sown. But it needed an edge. "Obviously it's gorgeous there. I've always been attracted to being in places that look good and [the Highlands] are definitely that….A colleague at school once said to me, and I used this in the book, "you can't eat the scenery" meaning that after a little while it wouldn't be enough to sustain your interest, and I definitely got that. The people were really welcoming and friendly but the longer I was there the more village gossip and secrets would come out. Stuff like who was having an affair, who's brother had done something, that kind of thing. I started to realise that it wasn't the utopia it looks like on the postcards. The humanity started to come out."
Coen brothers magic…but make it Scottish
The Mash House is such a cinematic book. If you're looking for vibes think Blue Velvet with a bit of Twin Peaks, add a dash of True Detective by way of Fargo…oh, and make it Scottish. Alan, who also admits that Scottish classic Jekyll and Hyde kicked off his interest in the concept of the duality of man, says: I was inspired by Fargo – the Coen brothers film then the TV series – set in this wee Minnesota backwater but where there were also all these horrendous gangsters and stuff. I really like that as a concept and I really wanted to take it to the Highlands."
These concepts came into play as Alan began the writing process, he said: "I'm interested in narrative distance. I don't want to be in the characters head as a narrator. I wrote the book in the third person because I don't want to know every thought and feeling the character has. I'd rather be sitting on their shoulders observing them or even sometimes a step or two behind them. My editor said I had a distant tone and I quite like that to be honest: a lot of my favourite authors have that observational style. Sometimes you have to go into a character's head: with flashbacks or emotional dilemmas, but I'd always prefer to show rather than tell – that's what I like to read, and what I want to write as well."
Fans of short chapters will be delighted with The Mash House, as Alan is a man after our own hearts on this, "I like to keep short chapters due to personal preference. Like, if I'm reading in bed and there's about 15 pages to a chapter break I'll think "Oh fuck that." Also, I can write about 1,000 words quite quickly, so most of my chapters are naturally about that length."
Writing interesting women
All of the characters in The Mash House are fun to read: it's a varied cast and we get to know them all intimately. But it's the three main women in the book that will most likely stay with you. Alice, who we meet first, is a beautiful, but thoroughly psychotic school teacher, while gangster's wife Margo has more than a hint of Lady Macbeth about her [the third woman is in the next wee section, I can count dinna worry].
Alan says, as a man, he's, "very aware of trying not to write two dimensional female characters. I wanted to make the women in the book feel very real and authentic." [Just for the record, I think he smashed it] He continues, "Alice was a lot of fun to write – her first scene of killing the cat is the first one I wrote – and I didn't really know where I was going to go after that. Then, because of me being a teacher, I decided to make her a primary school teacher and take it from there. A lot of Alice's actions in school were definitely inspired by things I've seen or heard of and then for the book I took it that step further. I'd obviously never do any of the things she did [watch out for a blu-tac scene] but I lived vicariously through her in a way."
But coming back to the man-writing-women idea, Alan knew there had to be more to her, "I was inspired by the Villanelle character in Killing Eve for Alice. I really liked the idea of her being gorgeous, seductive and psychotic. But also there also had to being something else there, some damage. I think when you have a character who behaves like she does you have to have some reason behind it, some drivers and motivations. You'd get bored after a few chapters if they were just psychotic with nothing more about them."
As for Margo, she was inspired by stories Alan had heard of the gangsters wives in Glasgow who would stitch up the victims of their husbands slashings and stabbings. "I don't know if the story was true or not but I heard she would patch up these people, give them a cup of tea and almost counsel them through what had just happened. I thought that was a very interesting concept. I wanted Donald [Margo's husband] to be quite small time and have this facade that didn't really hold up and Margo was a bit of a Lady MacBeth. In real life you do have these gangsters and presumably a lot of them go home to a wife at night. I was interested in how she would react to these things that her husband is doing."
Light among the dark
The beginning stages of writing the novel came at a difficult time in Alan's life as he began writing soon after the death of his grandpa. But he says he found writing two characters in particular, Jessie and her own grandpa, provided a way for him to process that grief. Of them, he says, "I wanted there to be a more loving and tender relationship in the book to give readers a bit of a break from all the dark stuff.
"My grandpa died shortly before I started writing the book so the grandpa in the book is a tribute to my own who died in a hospice. When I was writing I was still grieving and a lot of the conversations and quirks of grandpa in the novel are basically him. I really enjoyed writing the chapters with those two, they probably gave me, as a writer, a little bit of a break from all the death and chaos and stuff too."
Finding the motivation to see the book through to the end
Alan decided to go with Unbound, a hybrid publisher, to see his book come to life. He explains the model as crowdfunding combined with traditional publishing. Unbound give authors a crowdfunding target and then, when this is met, it switches to a more traditional publisher with editors and book designers to help the book across the finish line.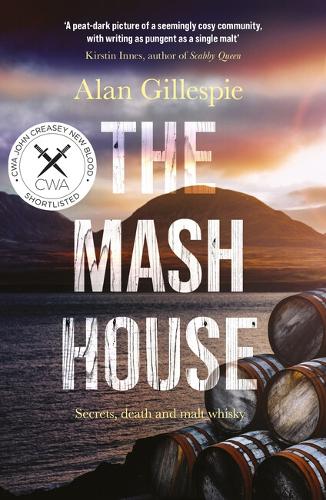 Alan says: "It helps debut writers like me who could be completely overlooked or dumped on a slush pile at a big publishers. It was really hard work to do the crowd funding as I was writing the book at the same time but it was motivating every time I got another few supporters. When you reach 100% the book has to be delivered and that's a massive motivator.
"I was offered the book on three chapters and a synopsis – without being given the book deal I don't think I would have gone any further than just those three chapters and a synopsis. Being busy as a teacher it almost felt kind of selfish to be writing. I felt like I should have been developing things for class or doing some marking instead of writing. But then having the deal was a really powerful motivator to finish writing the book."
Winding up our chat I was delighted to hear that the first draft of the next novel is already written. Alan says he'll return to it during the summer break to begin the drafting, refining and editing process while he looks about finding an agent. It's going to be such a treat to see the career of this exciting writer develop – and I'm going to be fighting my way through to the front of the queue to read the follow up.
Thank you so much to Alan for being our very first interview! Follow him on Instagram, Twitter and his own site – www.alangillespie.co.uk
Read our review of The Mash House here. You can buy the book direct from the publishers or from Waterstones.